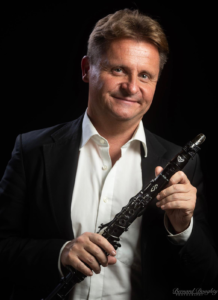 Born in Zagreb,Croatia 1969.In 1982 he studied at the Zagreb Academy of Music with Josip Nochta and in 1986 at the Conservatoire National Superieur de Musique de Paris with Guy Deplus and Guy Dangain,obtaining 1st Superior prizes for clarinet and chamber music (given unanimously).He has participated as a soloist in over 400 concerts and festivals with many european orchestras and won 1st prizes at the Ancona International Clarinet Competition, Italy (1984),the national Yugoslavian Competition(1981,83,85,86)
and 2nd prize at the "Dos Hermanas" International Clarinet Competition,Spain(1995). He has been a member of a jury of many International Competitions and given masterclasses and perform as a soloist in
Spain,Portugal,Belgium,France, United Kingdom, Italy, USA,Japan, China ,Croatia, Poland, Austria,Serbia and Slovenia as well as made recordings for Yugoton, Croacia Records, Fonart Aquarius Records,Gofio Records, Arte Nova (BMG),Summit Records,Cristal Records,ASV and Maguelone of Concertos and Pieces by Mozart, Françaix, Copland,Danzi,Strauss,Czerny, Jenner,Duvernoy,Lindpaitner, Beethoven,Palacios, Montsalvatge, Detoni, Saban ,Paar , Grgin, Kovačević, Prohaska, Adamič, Shaw and Bjelinski. Since 1989 he is Principal clarinet and Professor of the Academy with the Orquesta Filarmónica de Gran Canaria with whom he has performed many times as a soloist as well as with STING and his band.
Radovan Cavallin is SELMER, D'ADDARIO, SILVERSTEIN and BACKUN artist.