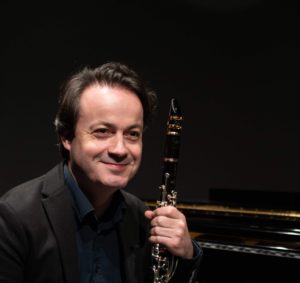 Featured artist of the Buffet Crampon and Vandoren brands, Nuno Pinto is described by the press as a "genius clarinetist" (Daniel Babiloni), "brilliant" (Nicholas Cox) and "at the level of the greatest international virtuosos of the instrument" (Bernardo Mariano).
He studied clarinet with Saul Silva, António Saiote, Michel Arrignon and Alain Damiens, in Portugal and France, and has dedicated a large part of his work to chamber music and contemporary music, being a founding member of the chamber groups Camerata Senza Misura, Trivm de Palhetas and Clarinetes Ad Libitum, having also played with some of the best musicians of our days. He was a member of OrchestrUtopica and Grupo Música Nova and has been a member of the Sond'Ar-te Electric Ensemble since its foundation.
As a soloist or part of chamber groups and ensembles, Nuno Pinto has done a remarkable job in the dissemination of contemporary music, being dedicated to several works by Portuguese composers with whom he regularly works. During his intense career, he premiered more than 170 works, by Portuguese and foreign composers, having recorded 140 works, more than 50 live, in 25 record editions.
His album "Tempo de Outono" (Artway Records 2016), recorded with the pianist Elsa Silva, brings together works by Portuguese composers for clarinet and piano. Highlighted by national and international critics, it was the record of the year by Jornal Público: "A record that stands out for the quality of the interpretation of these two experienced performers, and it is also worth mentioning the fact that it is the first phonographic edition of the six pieces that comprise it. " (in Ípsilon / Público, Pedro M. Santos, Top 10 Records – The best of 2016)
Nuno Pinto is one of the most outstanding Portuguese soloists with great international relevance, having been a soloist with several orchestras and participating in International Music Festivals in Europe, America and Asia.
He teaches Clarinet and Chamber Music at ESMAE – Escola Superiorde Música e Artes do Espetáculo – Politécnico do Porto.