NATALIA JARZĄBEK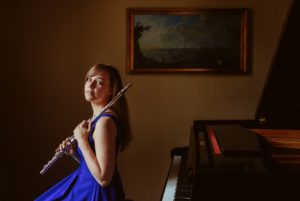 Natalia Jarząbek graduated with distinction from the Academy of Music in Kraków in the class of Professor Barbara Świątek-Żelazna and studied in the class of Professor Wally Hase at the Hochschule für Musik in Weimar under Erasmus+. She also graduated from the Jagiellonian University with master degree in mathematics. She is currently a principal flutist of the Kraków Philharmonic Orchestra and a PhD student at the Academy of Music in Kraków.
Her skills and outstanding artistic personality have won her numerous prizes at national and international competitions, and her artistic achievements plenty of accolade also expressed in grants and awards. A soloist at prestigious events such as British Flute Society's Flutastique! Festival, the 2017 Adams Flute Festival, the Alexander Arutiunian International Wind Festival in Yerevan in 2019, the Universitario de Flauta Transversa Festival in Mexico City in 2019, the Wawel at Dusk in Kraków, and the Music Festival in Łańcut, she also performs as part of ensembles and orchestras.
In 2017, together with Barbara Świątek-Żelazna, Natalia won the prestigious Ars Quaerendi Prize from the Parliament of the Małopolska Region in the Master – Student category for outstanding contribution to the development and promotion of culture. They both decided to use the prize to create a circular breathing textbook and record a CD inspired by the technique, which was released on DUX label in 2019.
Since 2017, Natalia has also been the flutist of the Cracow Golden Quintet, with whom she won the 2nd Prize at the Stanisław Moniuszko International Polish Music Competition in Rzeszów in 2019.