KIRILL SOLDATOV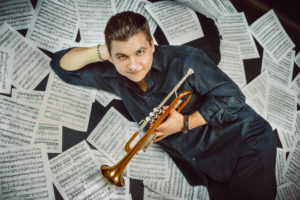 Kirill Soldatov was born in Moscow in musicians' family in 1986. He started playing the block flute at the age of 4 (Yu. Gramshi's class at I. Tabakov Children's Music School). He learned playing the trumpet at Ippolitov-Ivanov Institute's school and at Gnessin Musical College, and later at Gnessin Russian Music Academy (Professor V.I. Pushkarev's class). As early as at school he proved himself as an outstanding solo performer playing with various orchestras in Russia and abroad. During that period, he repeatedly participated in such contests and festivals as Young Stars (Tallinn, Estonia), Classical Heritage (Moscow, Russia), the Third Russian Artiade, Art of the Youth (Moscow), Russia's Young Talents, etc. During his education, Kirill was awarded Russian President B.N. Yeltsin's Prize, a grant from the Russian Performing Art Fund, as well as scholarships from the New Names Fund, V. Spivakov's International Charity Fund, and Russia's Sanctities Fund (created under directive of His Holiness Aleksiy II Patriarch of Moscow and All Russia). The young musician got a tremendous support from Vladimir Spivakov and his International Charity Fund. Maestro granted the young virtuoso with an instrument.
Since the age of 17, Kirill Soldatov has been a solo performer of the Russian National Philharmonic Orchestra directed by V. Spivakov. He became the youngest musician appointed to this position in the orchestra's history. At present, beside his work at the orchestra, Kirill performs all over the world with solo programs together with leading Russian and foreign orchestras. He cooperates with outstanding conductors of our time, including V. Spivakov, I. Marin, Yu. Bashmet, M. Vengerov, V. Ziva, S. Sondetskis, K. Orbelyan and others. One of his best parts is the trumpet solo in the famous First Piano Recital of D. Shostakovich. It's with this solo that the musician made a tour of 23 concerts across the USA cities in May 2008 (invited by Columbia Artist Management), and received wide acclaim by the press.
In 2008 he participated in Denis Matsuyev's Crescendo-2008 international festival in Irkutsk. Contemporary Russian composers often entrust Kirill Soldatov with the first performance of their music with a solo trumpet part. M. Bronner, A. Samonov, O. Oblov, A. Azaryan are among them. In 2006 the musician played in the first performance of "Boyarynia Morozova" by R. Shchedrin – a choir opera for soloists, a mixed choir, a trumpet, tympanis, and percussion. A CD record of this staging was released by WERGO Classic, an audio recording company. Since 2008 Kirill Soldatov has also been a solo performer at Brass Quintet of the Russian National Philharmonic Orchestra. The ensemble successfully tours at major venues of Russia and Europe and takes part in prestigious festivals, including such festivals as Return, Brass Days (Moscow), Brass Nights at the Mariinsky (Saint Petersburg), V. Spivakov's International Festival in Colmar (France), and others.
Since 2014 he started teaching trumpet in the Gnessin Moscow Special School of Music.
Kirill Soldatov is artist of «Buffet Group wind instruments» in Russia.