IRINA STACHINSKAYA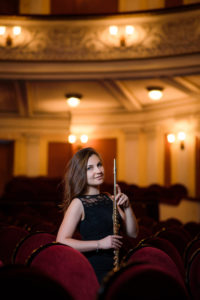 Moscow born flutist Irina Stachinskaya came from a family of distinguished musicians. She was accepted at an early age into the prestigious Gnessin Academy of Music where she studied until 2010 under the tutelage of Professor Valdimir Kudya. In addition, she is a graduate of the Ecole Normale de Musique Alfred Cortot (assistant of Jean Ferrandis) where she was awarded prestigious Le diplôme supérieur de concertiste à l'unanimité avec les félicitations du jury. While at Gnessin, Irina was the recipient of numerous awards including the "golden trophy" awarded to her ensemble KUI in the 2nd International Web Concert Hall Competition (New York 2009), first prize in the classical Heritage Competition (Moscow 2004), first prize in Musicalia (Athens 2000). In 2003, at age 14, she was awarded the position of principal flute with the Moscow State Symphony Orchestra, and in 2006, at age 17, she was awarded position of co-principal flute with the Moscow Philharmonic Orchestra.
Following graduation from Gnessin, Miss Stachinskaya has maintained a robust schedule of solo and chamber performances, master classes and competitions throughout Russia, Asia, and Europe. Irina has been invited as guest soloist to the International Festival and Master Class of Sir James Galway in Wegiss. In 2010, she was awarded the Rising Star Series Prize by Sir James Galway, and in 2011, she was awarded third prize in the 2nd Maxence Laurreiu Flute International Competition held in Nice, France. Miss Stachinskaya's performances have included a concert with Davide Formisano and Cameristi della Scala in the Tchaikovsky Concert hall in Moscow. She has had numerous solo performances with multiple orchestras including New Russia Orchestra (chief conductor Yuri Bashmet), President Symphony Orchestra, Novosibirsk Philharmonic (maestro Thomas Sanderling), Saint Petersburg Symphonietta (maestro Fabio Mastrangelo), and the New Opera Orchestra named after Eugeniy Kolobov. Since 2014, she has been invited for annual touring of Japan and South Korea.
In 2014, Irina became a Powell Artist and performed her solo debut at the National Flute Association in Chicago with pianist Phillip Moll and flutist Jean Ferrandis. In 2015, she was invited back to the US to perform in the Opening Gala concert which included 2000 flutists from around the world. In May 2016, in collaboration with Phillip Moll Miss Stachinskaya released her first solo album under the Russian label Melodia Records. After leaving her position at the Moscow Philharmonic orchestra in March 2017, Irina enjoys a very rich solo career popularizing flute as a solo instrument in Russia and abroad. She has performed in collaboration with renowned musicians including Nikita Boriso-Glebsky, Dmitry Kogan, Magda Amara, Harriet Krijgh, Basinia Shulman, Arthur Jussen, Amalia Hall, Alexandr Gindin, Pauline Sachse, Julia Hagen, Davide Formisano, Jean Ferrandis, Cammeristi della Scala, and others. In March 2018, Irina appeared with Mariinsky orchestra in Saint Petersburg at the « Virtuous of the flute » festival.