DARIUSZ MIKULSKI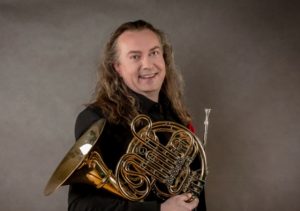 Dr. Mikulski works both as a soloist and as a conductor with many orchestras, such as the NDR Sinfonieorchester des Norddeutschen Rundfunks, Orchester der Deutschen Oper of Berlin, Wiener Kammerorchester, Thailand Philharmonic Orchestra, Philharmonie der Nationen, Stuttgarter Kammerorchester, Poznań Philharmonic Orchestra, Łódz Philharmonic Orchestra, Bałtycka Philharmonic Orchestra, Irkuck Philharmonic Orchestra, Berliner Sinfoniker, Stuttgarter Kammerorchester, Municipal Orchestra of Thessaloniki, State Orchestra of Thessaloniki, Baskent Akademik Orchestra, Cyprus Philharmonic Orchestra, Tama Philharmonic Orchestra and others. Among his radio and CD recordings are numerous works for French Horn, Chamber and Symphonic music and Opera.
Dr. Mikulski began his studies at the Music Academy of Łódz. In 1994 he studied French horn with Prof. Radovan Vlatkovic and conducting with Prof. Tomas Ungar at the Music Academy of Stuttgart and at Mozarteum University in Salzburg. Dr. Dariusz Mikulski is also the founder and CEO of 'CONCORNO Cultural Management' – a company that specializes in international concerts and artists' management.
Being one of the youngest artists in the history of Polish culture, Dr. Dariusz Mikulski has been honored by the Polish Ministry of Culture and National Heritage, receiving the "Gloria Artis" medal, for his artistic activity (2008). In 2011 he was awarded with the Silver Medal of the City of Berlin, for his contribution in Culture.
In May of 2015, Dr. Dariusz Mikulski was the Music Director and Conductor of the World Premiere of the Greek Opera "El Greco", composed by George Hatzinassios and in October of 2016 he was the Musical Director and Conductor of Verdi's Opera "Aida", in Thessaloniki Megaron Concert Hall.