CIAN O'MAHONY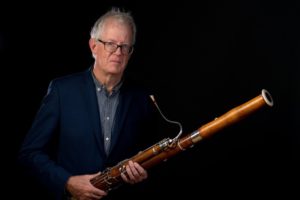 Cian O'Mahony was born in Dublin, Ireland and moulded by two contrasting bassoon-teaching traditions. He first studied at the Dublin College of Music with the French virtuoso Gilbert Berg, who with Maurice Allard was a member of the class of the illustrious bassonist Gustave Dhérin (dedicatee of the Bitsch Concertino, Tansman Sonatine etc.) at the Paris Conservatoire. Cian won successive Music Union of Ireland prizes for achieving the highest marks of all wind instrument students in his native country. After emigrating to the Netherlands he continued his studies at the Amsterdam Conservatorium with Joep Terwey, successor to his own teacher the famed Dutch player Thom de Klerk as solo-bassoonist in het Concertgebouworkest.After the years working in Ireland and in the Netherlands Cian succeeded the celebrated Japanese musician Masahito Tanaka as solo-bassoonist of the Symphony Orchestra of La Monnaie in Brussels. He occupied this position at the National Belgian Opera for a period of more than thirty years.
Performing all over the world, his playing was singled out by the prestigious cultural publication 'The New Yorker' for being "wholly expressive and engaged".
Cian acts as Advisor to lefreQue inventor Hans Kuijt as far as the application of the lefreQue sound- bridge device to the bassoon is concerned. It is his fervent conviction that this invention amounts to a historic breakthrough which makes a higher standard of bassoon and contra-bassoon performance possible at all levels.
He has given demonstrations and consultations with the lefreQue sound-bridge at the Münchner Philharmoniker, the Czech Philharmonic, with musicians of the New York Philharmonic, Berliner Philharmoniker and Tonhalle Orkester Zürich.