BRANDON JINWOO CHOI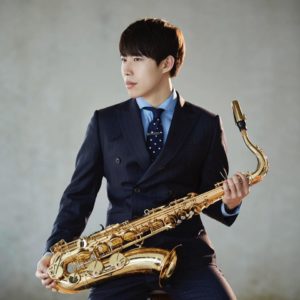 Brandon Jinwoo Choi is in great demand as an international soloist and he has appeared across three continents, in United States, France, Germany, Croatia, Italy, Spain, Australia, Korea, Japan, Thailand, Taiwan, Hong Kong, Macau and Korea. As a soloist, Dr. Choi has been a soloist with ensembles, orchestras that include The rumania ploiesti state philharmonic orchestra, and in the great halls of the Seoul Art Center.
Dr. Choi gave the world premiere of Sull'ala concerto for saxophone by Susan Botti with the University of Cincinnati College-Conservatory of Music Orchestra on March 13th, 2014. Also, Choi had recital at the Lincoln Center, NY, USA. Choi hold several concerts with Nikita Zimin, Yo Matsushita, Jon Wintringham, Wonki Lee, Jean Denis Michat and Alain Crepin in Korea.
Dr. Choi regularly attends the regional, national conferences and several of the world's most prestigious fine arts institute including North American Saxophone Alliance (NASA) Biennial National Conference at the University of Cincinnati, University of Illinois, 36th International Navy band saxophone symposium at the George Washington University, World Saxophone Congress, Strasbourg, France. North American Saxophone Alliance Region V Conference at the Bowling Green State University, College Band Directors National Association at the North Carolina State University, France International saxophone Institute at Saint-Meur, Paris -Conservatory of Music and American Saxophone Academy at the Eastman Music University. Choi also gave the world premiere of "Conversations by Frank Proto" at the 2015 International Saxophone Symposium at the Shenandoah University and the Patsy Cline Theater, both in Winchester, Virginia and French premiere at the 2015 World Saxophone Congress, Strasbourg, France.
Dr. Choi has won top prizes in many national and international competitions, including The cincinnati international concerto competition at College Conservatory of Music-University of Cincinnati (1st Prize), The MTNA Solo Competition (2nd prize), The MTNA Chamber competition (2nd prize), The American Cultural foundation competition (1st prize), The Hanjeon Artspool Center Competition (1st prize), The Korea Wind Chamber Music Competition (1st prize), The Music Association of Korea Competition (1st prize), The Music Education Newspaper Competition (1st prize), The Haneum National Music Competition (1st prize), The Seoul National Symphony Orchestra Competition (1st prize).
Dr. Choi took several the masterclasses and lessons from honorable professors such as Claude Delangle, Arno Bornkamp, Nobuya Sugawa, Jean-yves Fourmer, Vincent David, Christan Writh, Philppe Portjoe, Nicola Prost, John Sampen, Tom Myer, Otis Murphy, Chein-kwan lin, Timothy Mc Alister, Kenneth Tse, Carrie Koffman, Jeremy Long, Stephen page, Amy Dickson, Ensemble Squillante.
Dr. Choi holds 4e cycle Perfectionnement (Artist Diploma) at the Consevatorie de Lyon, France with Jean-­Denis Michat. Choi was a teaching assistant and holds Doctor of Music Arts degree at the University of Cincinnati, College Conservatory of Music where he previously earned his Master of Music degree in Saxophone performance.
Dr. Choi is saxophone professor of Seoul National University, Han Yang University, Chung-Ang University, Sook Myung Women University, Dong Duck Women University, Suwon University, Sam Yuk University, Baekseok Arts University.
Dr. Choi is Yamaha Emerging Artist, LefreQue Artist and D'Addario International Artist.