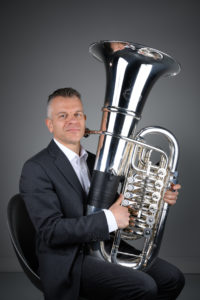 Alessandro Fossi is an active tuba soloist from Italy who is appreciated and renowned all over the world for his work in brass pedagogy. He is a regular guest teacher and performer at major festivals and universities such as Curtis Institute of Philadelphia, Conservatoire National Supérieur de Musique et de Danse de Paris, Royal College of Music in London, Stanford University, Northwestern University, Indiana University, Conservatoire Supérieur de Musique de Genève and Manhattan School of Music, to name just a few.
He is a Buffet Group Endorser and Tuba Professor at Conservatorio "C. Monteverdi" in Bolzano/Bozen.
He previously covered the same teaching position at Trossingen MusikHochschule in Germany as well as the following conservatories in his native Italy: "F. Cilea" in Reggio Calabria, "A. Casella" in L'Aquila, "B. Maderna" in Cesena and "G.Rossini" in Pesaro. He is a Certified Tiny Habits ® Coach.
He has performed with many of the most important Orchestras in Italy and Europe, including Teatro alla Scala Orchestra, the Russian National Orchestra, Marjinski Theatre Orchestra of Saint Petersburg, Mahler Chamber Orchestra and Orchestra Mozart, covering the principal Tuba position with Teatro San Carlo Orchestra in Naples and Orchestra dell'Accademia Nazionale di Santa Cecilia in Roma. Since 2010 he has been principal guest tuba with Teatro Comunale di Bologna Orchestra.
As a soloist, he won prizes in the Markneukirchen International Competition in 2000 (World Federation of International Music Competition, Geneva) and the Lieksa International Tuba Competition in 2001.
He has been a member of the International Tuba Euphonium Association (I.T.E.A.) for several years and has served as editorial advisor for the I.T.E.A. Journal for which he has written articles and interviews. He has also been a regular participant in the International Tuba Euphonium Conferences since 2004, with solo performances and master classes.
He is in demand as a jury member for orchestra tuba auditions and international solo competitions such as the Concorso Internazionale Città di Porcia and I.T.E.C. Tuba Competitions. He can be heard in several recordings with Orchestra dell'Accademia Nazionale di Santa Cecilia, Orchestra Filarmonica della Scala, Gomalan Brass Quintet, Orchestra del Teatro Comunale di Bologna and Orchestra Mozart.
In 2009 he produced his first solo recording entitled "Bel Canto", a collection of highlights from Italian operas and classical masterworks. In 2017 he released his second solo album, "Concerti Italiani" for Tuba and Wind Orchestra, together with Rovereto Wind Orchestra and M°Andrea Loss.
On June 2012 he was awarded the "Premio Vallesina" for the music section, under the high patronage of the President of the Italian Republic.